Discover the features of the autonomous mobile robot MiR.
Fully autonomous navigation

Automatically maneuvers around people and obstacles
Collaborative and autonomous
Safely maneuvers around people and obstacles in any dynamic environment.
Increased productivity
Can work round the clock, and chooses the fastest route to its destination while working.
Supporting changing business needs
Can easily adapt to changes in production items and facility layouts.
● Autonomous driving image

The world's first AI-equipped mobile robots
take robot navigation to a whole new level.

Artificial intelligence (AI) capabilities built into the software and a camera that acts as an extended set of robot sensors enables optimized route planning and driving behavior in the MiR. The MiR AI camera allows the robot to detect and recognize various moving obstacles and react accordingly.
For example, when a person is detected, the robot will continue to drive normally, but when an AGV is detected, it will stop so that the AGV can pass. The robot can also anticipate and reroute blocked or high-traffic areas, instead of entering a blocked area and then rerouting.
● Scanner and camera recognition range(MiR100 / 200)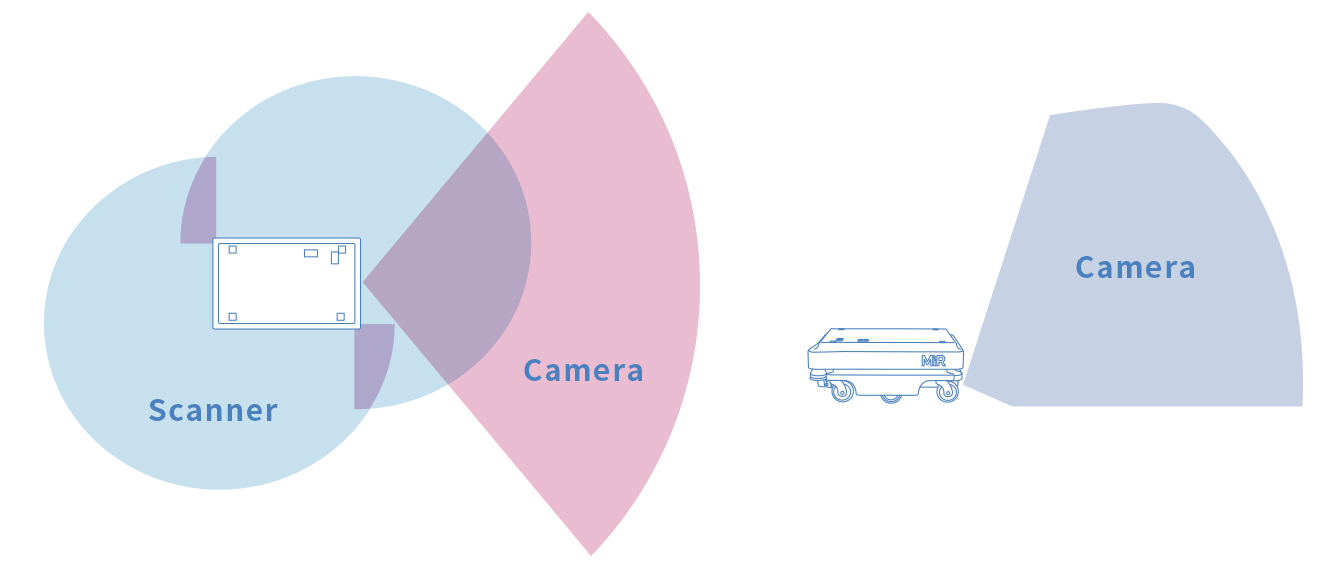 User-friendly operability

Easy programming with an easy-to-use GUI interface
User-friendly operability
A simple web-based interface that requires no programming experience makes it easy to handle.
Easy system setup
Setup can be done in as fast as a day. It can be deployed from the day after it arrives.
● Application operation screen(Example of smartphone)

● Deployment flow
Position accuracy is further improved by installing markers
Use markers when you need to improve the robots' position accuracy. Unlike common guides for AGVs such as magnetic tape, simply placing a marker helps the MiR stop with better accuracy. This means nothing is consumed and there is no need to regularly replace them. To change the stop position, just move the marker itself and register the point. Also, the relative position from the marker can be set as the stop position, which makes for extremely flexible use.
Marker types

Markers are boards that are installed to improve stop accuracy, and available in the following four types.

L marker

VL marker

V marker

Bar marker
High flexibility
Can be used for various tasks by changing top modules
From carrying small parts to transporting large products, the MiR can be customized to suit individual needs by mounting different top modules. It can automate the simple task of transporting things from A to B in a simple, efficient and cost-effective way.